Is going to another month soon and the 2011 release just hit our shores. . . although some might feel outdated but is better late than never for those that only depend on the retailer here and through the review that is made by the lucky ones, I suppose you guys have made up your minds on which set to get.
Anyway, Brick Bastion which is the LEGO online store that I frequently visit have loaded themselves with some fresh new stocks although there are some that are expected to be in stock later but what's up on their set are all ready to be ship and below is what the have.
#7279 Police Minifigure Collection
57 pieces
Price: RM44.90
#7285 Police Dog Unit
96 pieces
Price: RM49.90
#7286 Prisoner Transport
173 pieces
Price: RM89.90
#7288 Mobile Police Unit
408 pieces
Price: RM219.90
#7498 Police Station
783 pieces
Price: RM559.90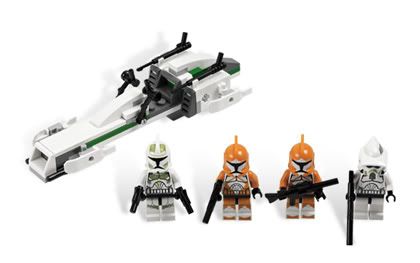 #7913 Clone Trooper Battle Pack
85 pieces
Price: RM89.90
#7914 Mandalorian Battle Pack
68 pieces
Price: RM89.90
#7915 Imperial V-Wing Star Fighter
139 pieces
Price: RM129.90
#7929 The Battle Of Naboo
241 pieces
Price: RM149.90
#8069 Backhoe Loader
609 pieces
Price: RM299.90
#5764 Rescue Robot
149 pieces
Price: RM89.90
These are the few stocks on hand for now and some are expected to reach 5th of March 2011 which most of you should have more money to spend as the salary coming. Price listed above are MSRP and before discount.
Click
HERE
to get you set.